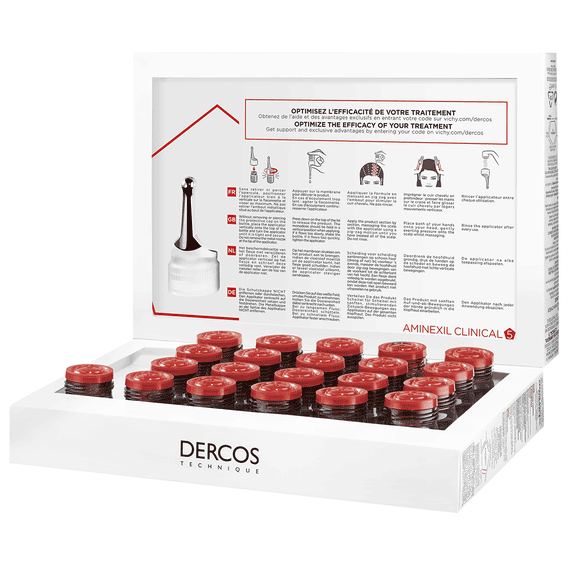 -

30

%

Recommended by dermatologists

Bestseller
Aminexil Clinical 5 Anti-Hair Loss Treatment for Women
Final Price
CHF 49.50
Regular Price
CHF 70.65
VAT included
5-fold action of Vichy against the specific main causes (pregnancy, menopause, stress or seasonal) of hair loss in women.

New improved formula:
Strengthens

the anchoring of the hair root in the scalp (Aminexil)

Improves microcirculation

(Arginine)
Strengthens the hair fiber and makes it more resistant (SP93)
Reduces scalp micro imbalance (Octeine)

Strengthens

and

soothes

the scalp against external agents (Thermal Water)

Advantages:

More effective:

hair loss reduced in 94% of cases*.

Faster:

Visible results after 3 weeks*

Longer lasting:

effect lasts 3 weeks after treatment*.

*94% of consumers confirm effectiveness after 3 weeks. Consumer survey with 102 people.

Intensive treatment: 1 ampoule/day for 6 weeks or maintenance treatment: 3 ampoules/week for 7 weeks.

Apply on the entire scalp. Part by part. Spread over entire scalp with gentle, stimulating zigzag movements of applicator. Work into scalp with gentle up-and-down movements. Do not rinse.
5 stars

31

4 stars

8

3 stars

1

2 stars

1

1 star

0