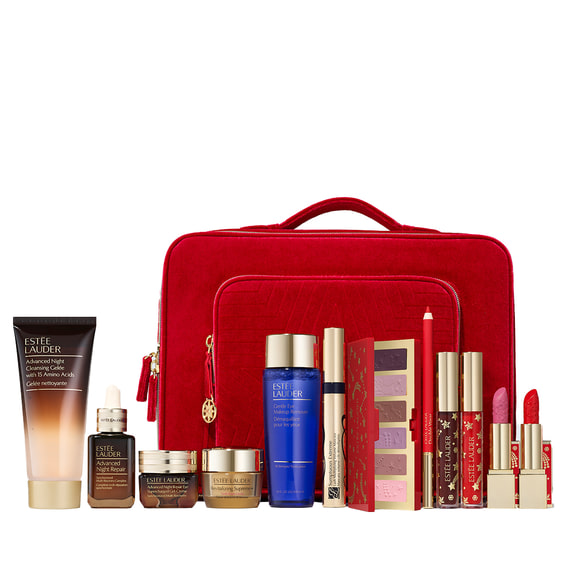 -

20

%

Limited Edition

Bestseller
Final Price
CHF 119.20
Regular Price
CHF 149.00
VAT included
Buy the Estée Lauder Blockbuster 2023 now and receive 7 favorites in full size + more! All in a luxurious cosmetics bag made from 100% recycled fabric.
This set includes:
Advanced Night Repair Synchronized Multi-Recovery Complex, Full Size (30 ml): This #1 serum makes the skin appear smoother and less wrinkled, younger, brighter, and more even.
New Advanced Night Cleansing Gelée with 15 Amino Acids, Deluxe Travel Size (75 ml): Removes makeup and impurities from the skin's surface without damaging or disturbing the moisture barrier.
Helps the skin feel soft, comfortable, and balanced.
Revitalizing Supreme+ Youth Power Creme, Deluxe Travel Size (15 ml): Significantly improves skin firmness, density, and elasticity for a firmer feel and a tightened appearance.
Advanced Night Repair Eye Supercharged Gel-Creme Synchronized Multi-Recovery, Full Size (15 ml): The best eye cream for dark circles. Smooths and brightens your eye area while reducing the appearance of fine lines.
Limited Edition EyeShadow Palette in Celestial Glam, Deluxe Travel Size (7 g): Includes 6 eye shades (from left to right): Pink Dusk (Matte), Aubergine Aura (Matte), Twinkling Lilac (Frost), Amethyst Cosmos (Matte), Full Moon (Matte), and Smoky Embers (Matte). Enchanting eyes day and night. This palette is perfect for creating subtle or smoky looks.
2 Limited Edition Full-Size Lipsticks (3.5 g): In Starlet Red (A bright red with warm undertones and a creamy finish.) and Saturn Reign (A cool-toned pink with a creamy finish.) Super creamy, sensually soft, and smooth.
2 Limited Edition Lip Glosses, Deluxe Travel Size (2.7ml): In Divine Plum (A deep wine red with a creamy shine.) and Ruby Quartz (A rich red with a creamy shine.) Brilliant, glossy shimmer. Lightweight, moisturizing texture.
1 Double Wear 24H Stay-in-Place Lip Liner, Full Size (8 g): In 07 Red. Glides effortlessly onto lips with moisturizing, creamy color. Transfer-resistant, lasts for 24 hours.
1 Sumptuous Extreme Lash Multiplying Volumizing Mascara, Full Size (8 ml): Provides incredible volume to the lashes. Makes the eyes look brighter, wider, and more seductive.
1 Gentle Eye Makeup Remover, Full Size (100 ml): Quickly and gently removes powder eyeshadow and other eye makeup.
Luxurious Cosmetics Bag: Enjoy this environmentally friendly bag made from 100% recycled material.
Care
Anti-Age
revitalising
firming